Alarm Sounders
Many types of alarm sounders are available and include:
Dome bells – operating mechanism contained within the bell.
Bells with operating mechanism external to the bell.
Electronic solid state sounders with mono or multi tone output normally in the range of 800 – 1000 Hz.
Small sirens operating in the range of 1,200 – 1,700 Hz.
Sirens ranging widely in size from 0.17kw to 11kW generally operating in the frequency range of 400 – 800 Hz.
Horns operating in the range of 300 – 400 Hz and either motor or pneumatic operations.
The following figures gives a broad indication of the sound levels of the various alarm sounders. Also indicated are typical sound levels for various industrial and commercial situations. An alarm noise level of not less than 5 decibels above ambient should be provided in general areas for adequate audibility but in sleeping areas a minimum level in the order of 65 decibels and 75 decibels at a bed head to wake sleeping occupants. It should be noted that most dome hells are intended for use with flush conduit or wiring systems. For surface wiring or conduit installations surface mounting adaptor boxes are normally required. Generally bells, electronic sounders and small sirens are available for use with 6, 12, 24 and 48V d.c. Sirens are normally operated at mains voltage, single or three-phase depending on the motor rating. Outdoor sirens should be fitted with heaters and thermostats to protect against low temperature conditions. Public address systems may be used for alarms, and visual signals may be used in special circumstances.
Points to consider
Operating voltage
Installation with surface or flush conduit system
Internal or weather-proof installations
Bell gong size
Colour
Motor rating of sirens, note some sirens are rated for continuous duty whilst others are rated for limited time periods.
Television interference suppression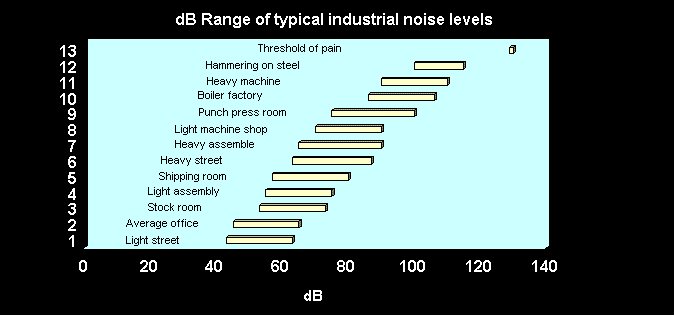 Whisper at three feet = 30dB
Casual conversation at three feet = 65dB
Threshold of pain = 130dB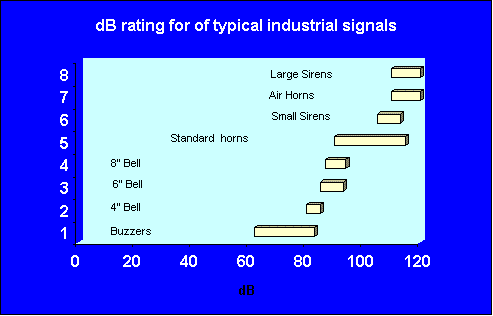 Alarm Sounders
An important component of any fire alarm system is the alarm sounder, normally a bell or electronic sounder, which must be audible throughout the building in order to alert and/or evacuate the occupants of the building.
The following notes give guidance for the correct use of alarm sounders:
1. A minimum sound level of either 65dBA or 5dBA above any background noise likely to persist for a period longer than 30 seconds, whichever is greater, should be produced by the sounders at any occupiable point in the building.
2. If the alarm system is to be used in premises such as hotels, boarding houses etc., where it is required to wake sleeping persons then the sound level should be 75dBA minimum at the bedhead.
3. All audible warning devices used in the same system should have a similar sound and be distinct from any other audible alarms used for other purposes.
4. A large number of quieter sounders rather than a few very loud sounders may be preferable to prevent noise levels in some areas from becoming too loud.
5. It is unlikely that sounder noise levels in a room will be satisfactory if more than one dividing wall or door separates it from the nearest sounders.
At least one sounder per fire compartment will be necessary.
6. The level of sound provided should not be so high as to cause permanent damage to hearing.
7. The number of fire alarm sounders used inside a building should be sufficient to produce the sound level recommended, but should in any case be at least two.
Other requirements include:
1. The sounders should be arranged on at least two separate circuits, so that the failure of one circuit does not cause all sounders in the building to fail.
2. Frequency range between 500-1000Hz.
3. Most single doors will cause a 20db drop in sound level. Fire doors — 30db.
4. For "P systems" an external sounder is required. Coloured red and marked "Fire Alarm".
5. Where mains sounders are being used to supplement 24V DC sounders, the 240V AC supply should be monitored.
6. To achieve 75db at the bedhead, a sounder should be installed in every bedroom.